Disney Beats a Chromium VI Rap and an Alleged Con Man – Almost
By Frank Snepp, May 9, 2014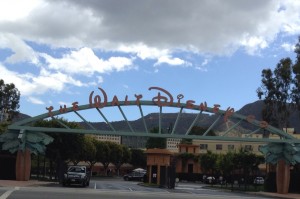 For seven years a self-described born-again Christian with a for-profit agenda has been hounding the courts and government regulators to eviscerate the Walt Disney Company for allegedly polluting its own studio lot in Burbank, the surrounding neighborhood, and L.A.'s water supply.
But on April Fools' Day, in LA Superior court, this potentially epic face-off came to a sputtering anticlimax. The single-minded crusade of anti-Disney activist William P. Dunlap succumbed ingloriously to allegations of fraud, a shortage of provable facts, and superior procedural maneuvering by Disney's legal team.
At the same time, nagging questions remained about what Dunlap, who routinely passes out small metal crosses to passers-by, perceives as toxic past practices at the Magic Kingdom.
Judge Laura Ellison, who holds court in Torrance, agreed with Disney on all the major issues before her and delivered a "directed verdict" that absolved the studio of any violation of Prop 65, as alleged by Environmental World Watch, the one-man, sometimes two-member organization Dunlap founded for litigation purposes.
Prop 65, which is part of California's health and safety code, prohibits release of certain "listed" chemicals deemed by Federal and state regulators to be cancer-causing and harmful to reproductive health. It also requires the posting of public warnings whenever and wherever there is an exposure risk resulting from a "knowing" act by the alleged polluter.
Ellison ruled from the bench that EWW had failed to produce any admissible evidence, or even one acceptable scientific expert to support its claim that Disney has long dumped chromium VI and other cancer-causing chemicals onto its headquarters property and nearby residents.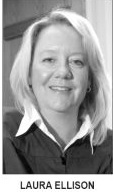 "I just can't make the leap," she declared in her closing remarks.
Disney's pugnacious, bantam-sized lead attorney, Kirk Wilkinson, declined to comment on the verdict, but beamed contentedly as he left the courthouse. He had earlier refused to speak with this reporter, whom he accused of sharing information "with the other side."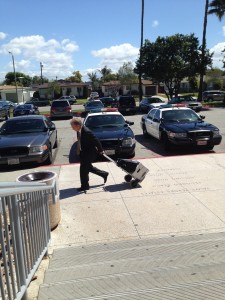 Disney's own on-scene monitor, assistant General Counsel Marea Suozzi, likewise constrained her enthusiasm as she hurried past the courthouse steps. When approached for comment by this reporter, she fluttered a hand and declared dismissively, "Nice finally to put a face to the name" – an ominous salutation from the high priestess of a company that does not easily indulge critics or pesky journalists.
Dunlap, who disappeared from the courtroom midway through the trial, was said by his attorneys to be in "deep depression."
As anyone who knew him could attest, that would have required a remarkable mood adjustment for the bulbous, normally ebullient former toxic waste manager who'd reputedly had given up fast cars, Penthouse centerfolds and the nickname "Captain Crazy" in order to pursue a higher calling, all because of a death in the family from cancer — so he maintained.
Whimsical aggression, not defeatism, was his default mode and "Goddamn Tinkerbell's Dad!" often rolled as easily from his lips as invocations to a Merciful Father. He once compared the current case to the minimalist prosecution of the gangster Al Capone. "They couldn't get him for Murder One so they settled for tax evasion," he thundered, as if bombast might substitute for a convincing set of facts in a court of law.
For both sides, fortunes and reputations had been riding on this case. Had EWW prevailed, Disney could have been saddled with substantial regulatory fines and a public relations crisis, since the studio has long promoted itself as a relentlessly eco-friendly company through well-funded public advocacy and stunning documentaries celebrating the wonders of a pristine planet.
Dunlap, for his part, had always been looking forward to an impressive payday. California law allows private citizens, acting on behalf of the state attorney general, to collect a percentage of the fines levied against a violator based on the citizen's findings. Dunlap once speculated that his take could amount to billions of dollars and an extended luxury vacation in Tahiti.
From all appearances he had sustained himself to this point on the generosity of friends and the meager, often delayed proceeds from more than 300 Prop 65 cases he claimed to have successfully pursued against a variety of regulatory miscreants.
Increasingly plagued by a paranoia that envisioned white vans piloted by Disney agents dogging his every step, he had restricted his movements lately to lawyers' offices, where he begged for contingency representation, and the single file-strewn room he occupied free of charge thanks to his devoted companion and fellow evangelical, Doris Nichols. Her soft southern drawl and gracious manner helped to take the edge off the obsessions that had propelled him into hardline advocacy and that seemed at times to value the ends over the means.
Fabricated Evidence
Though the judge ruled against Dunlap's jerry-rigged juggernaut explicitly because of his inability to marshal the necessary facts, the faint after-burn of obsession-driven excesses hung over the courtroom like a pall and likely poisoned his always slim chances of success.
In opening arguments Wilkinson shocked his sparse audience by announcing that Dunlap had earlier "fabricated evidence" in an effort to jumpstart government investigations of alleged Disney-related contamination. Once the trial moved on to the interrogation phase, Wilkinson maneuvered a former EWW official into acknowledging the untidy details under cross-examination.
Dennis Becvar, a soft-spoken chemical engineer who had served as president of EWW from 2010 to 2012, told Wilkinson that Dunlap had "created" and circulated two purportedly authoritative studies under the by-lines of two "experts" whose existence he, Becvar, was never able to verify. One of the documents had been attributed to a "Carpenter S. Blanchard" who was falsely represented in the text as a US EPA official. The second study, an email addressed to state regulators, bore the name of an equally elusive "Stephen Bishop" on the sender's line.
Becvar maintained that Dunlap had conjured this material in early 2011 after formally resigning from EWW. Only later, he said, did he realize what his former colleague had done. In the meantime, by his account, he discovered that Dunlap was posing an active-duty EWW officer despite his separation from the organization. When he found out about that, he said, he'd sent Dunlap a "cease and desist" letter ordering him to quit the charade.
Becvar also admitted that both he and Dunlap had been sanctioned in a parallel Federal case for allegedly destroying discovery materials demanded by Disney's lawyers after they'd learned of Dunlap's behavior. Becvar acknowledged having appealed the sanction against himself just a week before the present trial began.
The appeals document, submitted by Wilkinson into evidence, revealed that a Federal magistrate had been appointed to investigate the Blanchard-Bishop affair and had found that Dunlap alone was responsible for the "fake" documents. But it was also revealed that Dunlap had tried falsely to implicate Becvar in the purported forgeries by claiming the two of them had teamed up to "analyze" them for "authenticity." Becvar had assured the appeals panel in writing that "no such joint analysis took place."
On the witness stand, he disputed the authenticity of what looked like his own signature on yet another document and acknowledged that it might have been executed by someone else.
By the time he was done, Judge Ellison had the dazed expression of a spotlighted deer. She fingered a gray-blond split-end and billowed her cheeks. "I'd like to hear from Mr. Dunlap," she said at last to Ron Bamieh.
The equally bemused chief counsel for EWW did not oblige. Instead he abruptly canceled plans to call Dunlap to the witness stand to speak for himself, presumably to spare him direct hostile interrogation. At that point Dunlap became a ghost at his own funeral.
Bamieh later disclosed that he'd learned of Becvar's appeals notice only an hour before his swearing in. It was to be the first of several surprises in store for Bamieh, and a token of how tenuous his hold on the case was.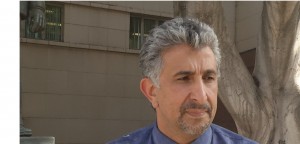 A co-counsel of his confided to this reporter that Dunlap himself was responsible for much of the confusion, having constantly threatened to add new members to their team, or to alter their witness list, to compensate for what he viewed as their insufficient sympathy for his excesses or their failure to grasp ever-changing facts.
Several previous attorneys had decamped for precisely these reasons, and one scientific consultant had even threatened to bean Dunlap with a shovel for daring to second guess him. His troubles with Dunlap and inexplicable hostility towards Bamieh's own office staff had led to his recent firing, which in turn had occasioned an untimely shrinkage in the talent pool available for expert testimony on EWW's behalf.
It was exactly the wrong kind of ramp-up for so momentous a showdown.
Two-Headed Horse
For Dunlap and his shoestring operation, the current case was to have been the triumphant culmination of a long-running effort to prove that Disney's cooling system is a source of much of the Chromium VI found on or near Disney's Burbank property by both private and government investigators.
The area is home to a contaminated aquifer and Superfund site that made Lockheed famous for more than its aircraft. In 1996 the company agreed to pay $60 million to local residents who blamed cancers and other maladies on exposure to chemicals that Lockheed had allowed to slip into soil and groundwater, including chromium VI once used as a rust inhibitor in its cooling systems. Four years later, under a US EPA consent decree, Disney agreed to join other local industries in on-going efforts to clean up the aquifer.
Dunlap's allegations against Disney carried echoes of the Lockheed case.
He and his organization had been litigating against the studio and its environmental policies since 2007, filing at least ten lawsuits in both state and Federal court based loosely on the same set of allegations yet keyed to different statutes.
From time to time disgruntled Disney neighbors had attached themselves to EWW's bandwagon in hopes gaining recompense from the studio for ailments and property devaluations they attributed to its environmental practices.
One of these supplicants, an ever-upbeat horse trainer who once tended Uncle Walt's own personal stable, was a named plaintiff in the current case along with EWW.
Dennis Weisenbaugh told Judge Ellison in a brief appearance on the witness stand that Disney's alleged chromium VI was doubtless the cause of a horse being born with two heads at a nearby stable, and should have prompted Prop 65 warnings in neighboring Pollywog Park. The judge gently admonished him that Prop 65 notices were not for horses.
Another neighbor who'd joined in the current action was absent from the trial and couldn't be linked to any immediately available address or existing EWW counsel. In retrospect, it seemed, she'd gotten out while the getting was good.
All but three of cases launched or nurtured by EWW over the years had been dismissed, and Weisenbaugh volunteered under oath that Disney's lawyers had once muscled him through his own lawyer (not any of the current flock) to concur in a proposed dismissal. He said he'd been threatened with the loss of his house if he didn't fall into line.
When Wilkinson bridled, Weisenbaugh assured him that he was not suggesting that he, Wilkinson, was implicated. No evidence was offered to support the witness' story, and Wilkinson volunteered that maybe Disney's counsel had simply been warning that baseless litigation can result in a plaintiff's having to bear the opposing attorney's legal fees. That seemed to bring the matter to a close.
Brockovich
The current Prop 65 action was the first of EWW's many Disney initiatives to go to trial. As with all previous filings, the focus was Chromium VI.
Anyone familiar with the film, "Erin Brockovich," will recognize Chromium VI as the invisible arch-villain. The movie dealt with the exploits of a real-life legal researcher who uncovered widespread hits of the chemical in Hinkley, California in the mid-1990's. She later helped engineer a massive financial settlement involving personal injury claimants and PG&E, the alleged but unacknowledged source of contaminated waste from a cooling system spiked with chromium VI.
Since that landmark case, Federal and state regulators had tightened advisory thresholds for Chromium VI to the point where almost any "detectable level" was considered a substantial health risk. According to EWW's final trial brief, "a 'detectable level' is a level that violates the levels of existence as set forth by Proposition 65."
In nearly a decade of research and litigation Dunlap had assembled a grab-bag of regulatory documents and other evidence that seemed to put Chromium VI in "detectable" quantities on and near the studio lot for more than twenty years.
Dunlap also hoped to din Disney for the presence or proximity of other toxic chemicals, like TCE and PCE. Not only had they inhabited paints and polishes once used in its work rooms; they permeated the aquifer which Disney tapped for cooling water before this underground sump became a US EPA Superfund site and a cleanup assignment for the studio and other local industries.
All of these potential pollutants are covered by Prop 65's regulations.
A turning point for Dunlap & Company came with the discovery in 2011 of widely dispersed Chromium VI hits on Disney's property and in adjacent Pollywog Park, an equestrian favorite.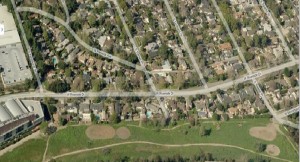 URS, an experienced research firm, tested for the chemical in 139 separate sampling locations and found detectable levels of varying strength in seventy percent of them. The investigation was underwritten by Disney and supervised by the California Regional Water Quality Control Board. The final conclusions were carefully hedged to discount any health risk and any Disney role in the contamination.
But the study did give the state's imprimatur to a Disney-endorsed chronology that established chromium VI use by the studio, in film cleaners and other industrial products, up through 1994.
As Dunlap confided to a reporter at the time, that seemed significant since Disney had previously made non-use a consistent part of its public mantra. Two years before, in late 2009, a Disney spokesperson had specially told the LA Times-Burbank Leader that "Disney has not used chromium 6 on its property."
Equally important to Dunlap was another URS finding, its determination that chromium VI samples previously uncovered in a Disney-connected storm drain extending under Pollywog Park to the LA River were "consistent with minimal chromium compound use" on the studio lot.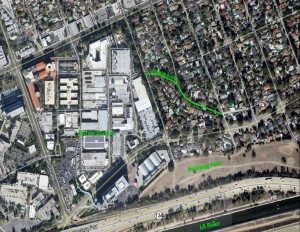 Earlier regulatory studies, in 2006 and 2009, had documented small chromium VI hits on or near studio property, including the storm drain sample that URS had reviewed. In each instance the investigators had deferred to Disney's public pronouncements and declared the contamination to be below levels of concern, untraceable to the studio, and in no way related to its cooling systems, as EWW had alleged. The California Department of Public Health later examined these rapidly aging studies on its own, and, without any independent research, echoed their findings including the one holding Disney blameless.
In the summer of 2012, a year after the URS study appeared, the Los Angeles Times reported that it had been prepared as part of an ongoing investigation by the state Regional Water Quality Control Board ("Water Board"). Dunlap, who had brought the story to the Times remarked to an associate that he thought it would nudge the agency along. But within the next twenty-four hours, the Water Board abruptly canceled its investigation, and announced in a public letter that that no further research was required.
The Times, already on the edge of bankruptcy and in no position to risk a costly lawsuit from Disney, published one brief notice of the Water Board's decision, but no larger follow-up on why the Board had suddenly bailed on its own inquiry.
At trial Wilkinson made much of the blank slate and advised the judge that no government agency had ever made a chromium VI case against the studio.
Dunlap and his lawyers persisted in arguing otherwise. As they indicated in their final trial brief, they remained convinced that URS/RWQCB study had given them what they had never had before – officially sanctioned "proof" that chromium VI was in active use by Disney, even if in a "minimal" way, as late as 2011.
"The URS report makes it clear that Disney is still using Chromium compounds," they stated flatly.
Post-It Board and Poop Line
Given the complexity of the scientific record, it would have been a challenge for any newcomer to EWW v Disney to grasp the dense technical arguments offered by both sides. Judge Ellison was undeniably in the newcomer category, having been assigned at the last minute, literally overnight, to take over the case from a judge who'd had longer exposure to it. On the first day of trial she acknowledged that she was confronting this documentary Everest for the first time. She then was forced to grapple with motions and arguments requiring instant scientific expertise.
In short order she also had to contend with allegations that the plaintiffs' chief angel was a forger. EWW's own attorneys later speculated that her willingness to indulge their often tediously detailed and poorly sourced arguments was sorely tested by Dunlap's behavior.
As often happens in even the simplest cases, the two sides to this one approached it from radically different perspectives. Bamieh, EWW's chief counsel, seemed to view it as a Post-it board for Dunlap's often circumstantial evidence. In order to win, he said, the plaintiffs simply had to prove that Cr VI and the other listed chemicals were prevalent in the environment under conditions for which Disney was reasonably responsible.
Based on his briefing papers, he didn't consider this such a difficult task since Disney was the only immediate industrial-grade user of chemical products in an otherwise residential area.
"The proverbial vapor trail in the sky leads straight to Disney, who – to continue the metaphor – owns the only plane in the area," he quipped in his final brief.
By contrast, Disney counsel Wilkinson insisted on strict adherence to the very specific evidentiary requirements of Prop 65.
"This is a use and discharge case," he told the judge. "They have to connect the dots."
It was not enough, in his view, to "rely on the mere presence of a compound in the environment to infer that the compound is present as a result of an act or omission of the Defendants'."
Instead, he told the judge, the plaintiffs had to show that the contamination in question is a "knowing discharge" from Disney's business operations and that it reached LA's drinking water supplies as result of some deliberate action by the studio.
Moreover, "even if the Court assumes that Cr VI is only man-made," he said, "this does not mean it came from the studio lot as opposed to some other source such as the neighboring 134 Freeway."
He pointed to NBC's not-so-distant studios and Providence St Joseph Hospital as alternate potential contributors to the neighborhood stew. He cited experts who blame a large percentage of Chromium VI on automobiles, and he reminded that judge that EWW's own Dennis Becvar had acknowledged during his testimony that chromium VI could come from "power plants, cars, diesel exhaust, plating shops and refineries."
As for the possibility that passive migration from an inert source (like a residue-encrusted pipe) might be the culprit, he argued emphatically that resulting contamination would not count as a "knowing discharge" under Prop 65.
On the matter of Disney's cooling systems, Dunlap's obsession, he denied that Disney had ever added chromium VI to any of them, past or present, or used it as an anti-rust device in them as EWW claimed. He recalled that regulators had banned chromium VI from cooling towers in January 1990 and suggested that this made it unthinkable that Disney had overstepped the line.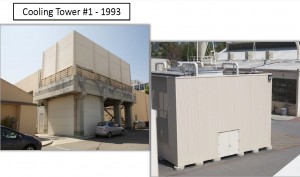 "The idea that Disney was using chromium VI in cooling towers after it's banned doesn't make sense," he exclaimed to the judge.
He didn't tell her about two government documents included in the record that might have given her second thoughts about what he was saying. A report prepared by the state Water Board in 2009 quoted a studio official as saying "Disney stopped using hexavalent chromium" (another name for Chromium VI) once the cooling tower ban went into effect. The same official also volunteered that "Disney does not have any hexavalent chromium onsite" – a clarification that seemed to confirm its presence there at some previous time. A notation appended by another Disney official rejected the notion that any of this meant exactly what it suggested – that the chemical had been used in cooling operations. But the California Department of Public Health, in a later report of its own, smudged over the rejection and acknowledged "conflicting information" on the subject.
Wilkinson mentioned none of this. Instead he opted for seamlessness.
Despite the alleged "consistency" URS had found between a chromium VI hit in a Disney storm drain and "minimal" chromium use on the lot, he argued that no government study had ever made such a case.
A top URS official affirmed that his own firm hadn't done so. Under cross examination, Jerome Zimmerle, whom Bamieh described as a "paid" Disney witness, said this "consistency" simply reflected the pervasive historic presence of Chromium VI in the environment. For good measure Becvar acknowledged that he had no proof that contamination he'd once discovered in the storm drain came from Disney.
Wilkinson insisted that wastewater from the cooling system is now vented (minus any prohibited pollution) into the Burbank sanitary sewer system under city permits, and he emphasized the sewers are separate from storm drains and have no immediate outlet to groundwater. He cited a previous deposition from Dunlap himself confirming that the "poop line," as the deponent once described it, is the current repository for all expelled cooling water.
Wilkinson glossed over a Disney tally sheet tucked away among his exhibits that made a garble of this picture. It showed occasional chromium VI hits in studio poop lines up until 1998.
He also ignored provisions in Burbank's sewer permits that limited the amount of cooling water allowed into such channels. Having ignored the limits, he did not need to explain where the excluded water might have gone – and whether it had ever been tested for chromium contamination.
He did acknowledge that a chromium VI product had been used as a film cleaner on the studio lot up until the early 1990s and vented via a "sewered" process. He said that TCE and PCE had cropped up in paints and other industrial products prevalent on the lot at the time.
But he assured the judge their use had been tightly controlled and limited to indoor environments. He claimed that the questionable film cleaner and other contaminated products had disappeared from the lot and all Disney toxic-product inventories by 1994.
If that had happened, how come the poop lines tested positive for chromium VI up until 1998?
In this, as in all other matters Wilkinson was selective to a fault.
But he had gravitas. From start to finish, his presentation was anchor-quality and embellished with graphics and pictorials worthy of Disney's best imagineers.
By contrast, the hodgepodge legal crew representing EWW were constantly at a loss to find the right exhibit in papers strewn before them. The court stenographer twice admonished Bamieh to slow down so he could be better understood, and Wilkinson clearly took pleasure in pointing out to the EWW lawyers that one of the Disney-sourced chemicals they had listed as a Prop 65 violation – antimony – wasn't one at all.
At one point Wilkinson surprised the court by acknowledging that Prop 65 warnings had been posted on the Disney lot itself since 2002. The judge wondered aloud why that had happened if there was no cause. Wilkinson remarked cryptically, "You took the bait, Your Honor" – and then proceeded to explain that the posting was for employees who hadn't kicked the smoking habit.
Bamieh didn't pursue the matter, probably for fear of lending credence to the idea that Disney, for whatever reason, was complying with Prop 65 after all. From then on, the EWW attorney concentrated on proving that Prop 65 warnings were needed in potentially contaminated areas outside studio property. This concession further narrowed his already constricted field of maneuver.
Exclude and Conquer
Besides demonstrating an impressive grasp of Disney's standard narrative, Wilkinson deftly deployed an exclude-and-conquer strategy, using an array of procedural objections, to deprive EWW of its own best science, such as it was.
Even before opening arguments he persuaded the judge that Dunlap wasn't qualified to testify as an expert scientific witness since he didn't have the training required by the judicial rulebook and had no academic credentials beyond a high school diploma.
Under Wilkinson's coaxing she accepted a previous judge's decision to reject an alternate expert from the EWW witness list – the only "expert" still available — because Dunlap and his lawyers had failed to designate him as such within a specified deadline.
And when Bamieh and his team tried to shoehorn the same expert onto the witness stand for impeachment and rebuttal purposes, the judge took her cue from Disney's play-by-the rules ethos and turned the proffer down flat.
To EWW's legal consultant, Dave Robinson, that ruling seemed both arbitrary and unduly prejudicial and sounded a death knell for the plaintiffs. "I was surprised by the decision," he commented outside the courtroom.
The only Disney motion that didn't win immediate favor from the judge was a statute of limitations proposal that would have restricted all evidentiary offerings to a year's worth of events beginning in September 2011. That benchmark would have excluded the URS report dated the previous month and everything that went before.
She delayed this sudden-death decision until she could decide on its propriety. The trial ended before she had to.
But what she deferred with one hand she gave back to Disney with the other. Before hearing any evidence, she granted Wilkinson's motion to rule out any evidence pertaining to events before 2009. He argued, and she accepted, that anything more ancient was too remote in time to be relevant to any alleged Prop 65 violation under consideration. In subsequent give-and-take Wilkinson managed to wax on about cooling systems dating back to the 1990s without any protest from Her Honor. But she was not so flexible with the plaintiffs.
As a result, abundant insights into Disney's pre-2009 practices (including its use of toxic film cleaners and other industrial products) got only cursory treatment from the plaintiffs' legal team.
Wilkinson also was remarkably adept at raising just enough counter-evidence to keep the judge from granting "judicial notice" (uncontested factual status) to seemingly straightforward offerings from EWW.
In the months preceding trial Dunlap had uncovered a consent decree that Disney had signed with Federal regulators in 2000. Along with other local industries, the studio had accepted cleanup responsibilities for TCE and PCE, two Prop 65 chemicals, which had turned up in the underground aquifer. A more recent "stipulation" filed by studio with the US EPA had extended this dustbin commitment until 2018.
Bamieh argued that in signing the two documents Disney had effectively assumed ownership of the two chemicals and was answerable to Prop 65. Wilkinson countered that a consent agreement does not necessarily imply liability or an admission of any sort. The judge agreed, and excluded the consent decree from the evidence box.
Her decision sounded another death knell for EWW's case, which was already shy of proof that any Disney operation had resulted in groundwater pollution.
For similarly arbitrary reasons the only "smoking gun" still left in EWW's arsenal soon became a vanishing speck as well.
In EWW's Federal case, the one that bedeviled Becvar, a judge had ruled the previous fall that Disney lacked a Federal permit for non-storm water flowing from its property into local storm drains. Since Prop 65 presumes adherence to all Federal and state environmental statutes, EWW was prepared to argue that the Federal judge had consigned Disney to un-permitted outlaw status.
But Wilkinson objected that the Federal ruling was still under review and contested, and shouldn't be taken as the final word. Judge Ellison again bowed to his advice.
By the time she had shrunk EWW's evidentiary package to Wilkinson's specifications, there was little left of it to tie Disney directly to any contamination found in or around its premises.
The only surviving tidbit was that brief URS finding from 2011 that declared storm drain contamination under Pollywog Park to be "consistent" with "minimal" chromium compound use on the lot itself.
In his final argument Bamieh tried to stretch this exceedingly thin thread into a choke knot for Disney.
It was tough going. First there was the ambiguity cast up by URS' own witness. Secondly, since Prop 65 notices were now known to be posted inside the lot, Bamieh's only option was to focus on possible violations outside. URS had found chromium VI inside the Disney storm drain under Pollywog Park and in the park's topsoil and sub-layers. Recognizing that the pipe and the dirt were two different things, he had to fashion an inferential connection.
He argued that since chromium use had been "established" on Disney property (goodbye to the ambiguity), and since Disney was the only local actor capable of producing the industrial-strength chromium found in Pollywog soils, the samples there had to represent Disney discharges.
For added umph, he mentioned that Bevcar, by his own telling, had privately collected "detectable levels" of Chromium VI from a home just off the Park in early 2011.
"All these facts establish that Disney knowingly discharged a list Proposition 65 chemical into water, or into or onto land that passes or probably will pass into drinking water," Bamieh concluded. "The burden has shifted now to the defendants to establish an exemption."
Even he seemed under-impressed by this tenuous argument, for he didn't bother to drag himself to his feet to deliver it.
In her own summing up, the judge returned the slight by praising Becvar, the man who had impeached Dunlap and acknowledged no provable contamination in Disney's cooling towers. She called him "a fair and credible witness." If anyone had any doubt where she would wind up in this case, that dispelled it.
Irreconcilable Differences
Judge Ellison's final ruling had a categorical quality to it that obscured the slim evidentiary pickings that had gone into it. From henceforth and forever more, no one could point to Disney as the source for any of the chromium VI found around it – until of course someone came up with significantly better evidence.
Even as Her Honor descended from the bench, word reached the courthouse that the judge handling the Federal case had just issued a new sanction against Dunlap, this time for allegedly doctoring a statement from a charitable organization to make it appear that EWW had been among its most generous contributors. Moments later the court granted Bamieh's instantaneous request to be excused from the Federal action because of "irreconcilable differences" with his client – code words, according to an associate, for a total breakdown in trust between them.
Outside the courthouse Bamieh said he would have nothing more to do with the absent Dunlap. He admitted that his own greed had allowed him to be taken in by this "con-man" and described him as "crazy."
"There was a case to be made, but this wasn't it," he added. "Excising Dunlap from the whole thing might make it easier next time."
Expressing dismay that he had just lost his first case ever, Bamieh, a one-time state prosecutor with a tentative goatee and hangdog demeanor, said he might take another swing at Disney but only if he could raise the "three-hundred-grand" which he estimated would be needed for new testing.
He might also have mentioned that several key questions had been left hanging by the perpetually shrinking case he'd been saddled with. One of them offered a promising future line of attack, assuming that he had the stomach to climb back into the ring. It had to do with what was left implied by Wilkinson's exquisitely precise argument that Disney had never "added" chromium VI to its cooling systems, or "used" it in them.
What about the much simpler possibility that chromium VI had slipped into the early cooling apparatus on its own, by piggybacking contaminated groundwater sucked in as replacement coolant and later recycled back into the environment?
In one regulatory filing not mentioned by Wilkinson, Disney acknowledged having operated blind. A top studio official told the US EPA in mid-2011 that Disney had never routinely tested for chromium VI in any of its cooling systems or looked for it in air-borne vapor from its current towers.
And why not? Because, "the cooling systems did not use chromium and therefore were not tested for chromium on a regular basis," the Disney man said.
This neat tautology might insulate Disney against an alleged Prop 65 violation, which requires proof of deliberate contamination. But, according to some legal experts, there is an argument to be made under other statutes that once nasty stuff drops into your lap, you own it and must pay the consequences for not doing anything about it.
The consequences for Disney might be a belated rendezvous with the health implications of its admitted practice of dousing neighborhood streets and storm drains with expelled cooling water (drawn from groundwater) up until 1993. In the view of one EWW counsel, that is the elephant in the room that kept Disney scrambling all these years to slam the door on its past practices.
The author of Disney's no-test admission, Robert A. Antonopolis, was in Paris at the time of the EWW trial and the plaintiffs could not afford to fly him back for cross-examination. So whatever he might have said about Disney's apparent inability to vouch for the purity of any of its cooling systems was lost to the record.
That wasn't the only near-miss that haunted the verdict. Two weeks later, California health authorities approved the state's first-ever drinking-water standard exclusively for chromium VI, the first such safety threshold adopted anywhere in the nation. It is awaiting a perfunctory administrative review. Once that happens, the new "Maximum Contaminant Level," if applied retrospectively, would put disapproving X-marks through many of the Disney hits reported in 2011 and before.
Even the most reluctant regulators might then be shamed into taking a second look at who dumped what, where, and to what effect.  Whatever the outcome, everybody's interests would be served, including Disney's. As one EWW attorney observed, it is the lack of consistent government oversight that has allowed cranks, scamsters and corporate shills to make such a muddle of this mystery at the heart of the Magic Kingdom.
(Associate Producer Yvonne Beltzer assisted in covering the EWW trial. Hernan Vazquez assisted with video production)